How works the Matrix Park system?
By Parking companies one of the biggest problem is the effective and rapid control of parking cars. It is very important to have access to the database quickly and safely. It is also important to controll the work of the staff.
Fortunately, this problem has gone, because the Matrix Pocket number plate recognation software developed specifically for the parking companies (running on smartphones) offers an effective solution.
The devices can check license plates entered, or seen by the camera automatically in their own internal, or in a remote servers database and can generate an alarm immediately if any abnormality is found.
If the car registration number is found in the white list (cars that parking fee is paid), there will be no alert, only if the plate is not included in the list that means the parking fee is not paid.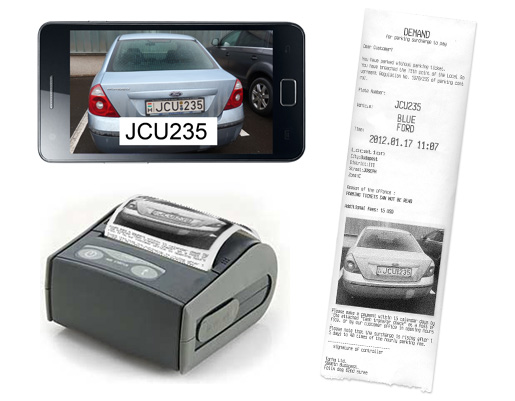 Effective control of parking attendants' work
The software running on an Android smartphone is capable of documenting the work of the parking attendants. Each query will be saved to the server with GPS coordinates. All data can be stored on a central server, making it easy to review the trip of each parking guard, furthermore you can see the amount of checked number plates.
So you can exactly follow, where the parking guard worked, how many license plates were checked by him and can also be traced what time (hours: minutes), and where (GPS coordinates – even street-level house number) a number plate was controlled.
This new feature gives you a unique way to controll the work of your staff!
Easy and fast "Payment Request" printing 
Thanks to the new development the system is able to send to a mobile thermal paper printer the image captured by the Android phone, so the photograph of the car, and other datas like registration number, address of parking, the amount of the surcharge, and a pre-programmed text. (optional)
 If you have further questions, please fill out the form below!
For more information! Click here!